Hi Dan, I was one of your first students in the original online course and last year I took your still-life course. I have taken some other online courses and I can tell you, your at far and away the best! It sure shows all the work you have put in and the benefit goes to the students. Your course, the additional videos, information, tips, marketing etc. are amazingly informative and helpful. Your critiques are so well done, no matter what the ability at the time of the student, so helpful and kind. I think my painting progressed by leaps while working with you. I have sold several of the still-lifes I painted. I highly recommend your courses. Germaine Trenary Missoula, Montana
Hello Dan, I have taken every one of your courses - still life, landscape and now the Art Masters Program. Since taking your courses, I have made enormous progress in my paintings. From the set up of a still life, to the materials, to the brush strokes - I have learned so much. Books cannot take the place of demonstration and that has made the great difference for me. I have sold many paintings, won some prizes and actually have a local following thanks to what I have learned and continue to learn. Thanks for making be a better artist Sal Gruttadauria Buffalo, New York
Hi Dan, I am not very experienced at ordering things on the internet so it was a bit of a leap of faith for me to order your still life course. However I can honestly say that I am thrilled that I did and I am enjoying each new video even though time doesn't permit me to paint as often as I would like. In my opinion the course is great value for money and you are a natural teacher and generous with your tips and information. Anna-Marie
Being brand new to oil painting, I had a ton of questions about everything, from mediums and paints, to mixing colors and brushes. I searched the Internet for answers but never found anyone who addressed my specific questions. Dan's Still Life course offered exactly what I was looking for. Not only did the videos guide me step-by-step through each painting, but the additional material provided the background, technique and tips I couldn't find elsewhere. And Dan's individualized critiques of my finished paintings provided a personalized touch that sets his course above and beyond the rest. I'm very grateful I signed up. Thanks Dan! Scott Andes Kyiv, Ukraine
By accident I found your 7 Tips to Cure Amateurish in an online ad. One of the tips helped me so much with a problem I was having in a painting that I bought the Still Life DVD course. The very first painting I did from the Still Life DVDs was the Pear in the Martini Glass. It turned out so well and your demo and critique was so helpful that I recently sold this 8x10 acrylic painting from a gallery, for over $200. I think it was one of the best pieces I have ever done. The price of the course and the amount of help and knowledge you gain from it is worth every single penny!! I work in pastels and acrylics and I had no problems applying what I learned from you to these other mediums. I would recommend this course to any artist looking to take their work to the next level. Meg Anderson Green Bay Wisconsin
Dan, you are so personable and patient with your students. The subjects of your lessons look like something I would never have thought I could paint. It has been a pleasure painting under your tutelage. You have been very prompt in responding to my questions and detailed in your answers (in layman's terms.) Your critiques and your weekly tips are so helpful. Thank you for helping me to be a better painter. I have learned so much from you that I have sold several paintings now. I look forward to more courses. Judy Velasquez Allen Belfast, TN
Dan, I picked up a paint brush and took a few lessons in oils in my early 30s. Life happened and I did not paint again for 30 years. I found Dan's website while doing a search. His voice and presentation convinced me that I had found my instructor. I have finished the still life course and have done 2 of the landscape course. I will take any and all courses that Dan offers. He makes you believe in yourself, through his caring and his pleasant style of teaching. Carolyn Reynolds Eutawville, SC
After years of previous study, Dan's courses,stills and landscape,gave me the opportunity to associate previous Knowledge to his program and has allowed me to "love the paint" once again. Marvin gantt Atlanta, Ga
All you have to know is dan teaches with a passion. phil ruehl chicago, ill.
As a perpetual student, I try never to miss any of your tips there is always something to learn and you are so generous about sharing. devora chicago, Ill. USA
Bearing in mind there's no set formula for painting, I find your weekly tips stimulating and provide other avenues for exploration and thought. You so often hit the nail on the head. Jill Kahans Melbourne, Australia
Because of the miracle of the internet non artists like me can uncover the mysteries of putting paint to canvas thanks to your help. Ron Stanley Boynton Beach, FL
Dan,I am in middle of landscape class.me and everyone that sees my painting can tell the difference.your critiques are a great help! mary thompson downsville Louisiana
Want more Reviews? Click here for Hundreds more
Learn to Paint Better & stop Amateurish Paintings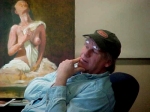 Hi, Iím Daniel Edmondson

I studied art in college and took tons of classes and workshops over the years but I kept getting frustrated and was feeling like I wasn't getting it and getting better as quickly as I wanted to. So I ended up developing a system on my own that really helped me learn to paint and get better with painting and get into galleries and win shows. I took this information in this system and created a teaching course that has been really valuable to thousands of people.
These are some of the many problems I had:

--> I was Seeing other people get better but feeling like I wasn't getting it
--> Not mixing the colors I needed
--> The teachers kept talking but I never felt like they were really explaining it...it was just "Do this... Do that..."
--> The teachers were correcting my drawing problems but not really teaching me how to paint
--> not knowing when to stop and overworking and ruining a good painting

I finally figured out a good workable system and this is how I did it:
Get "Free Painting Tips" weekly and

"7 mistakes handout"

you can Just unsubscribe anytime if you don't like the tips
10 DVDs 10 Paintings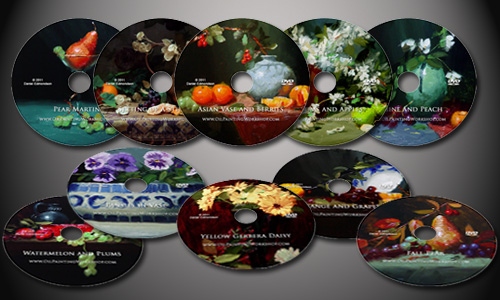 Each DVD will take you from the start to finish of ten paintings that you can do at home. You can even begin your first painting today because each set of DVDs comes with an online version of the same content, so if you want to travel and paint but donít want to cart around DVDs then you can look at everything online.
Donít worry Iím not going to bore you with lectures on theory or history or anything, I explain how and WHY to paint each painting as you paint the paintings along with me.
As a rare bonus, send me your painting and Iíll critique it and give you personalized tips. This is completely optional.
Imortant: Do not change your style: This course is to help you develop your own unique recognizable style not Force my style onto you
want to see more? Watch a short preview lesson NOW:
actual online version and DVD version larger and higher quality
note: Every DVD Demo is brushstroke by brushstroke, Start to Finish, nothing left out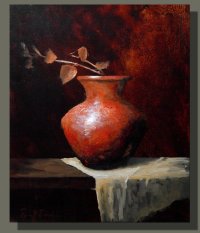 Learn to Create Backgrounds
Iíll teach you how to paint one of the most elusive painting elements, the background and Iíll teach you how to paint a variety from smooth and quiet to varied and abstract. Weíll go over the differences and how to use backgrounds to create the most compelling painting for yourself. This is one of those big problems that more artist don't realize in their work.
Learn How to Translate
Iíll teach you how to translate what you see me doing and what youíre doing instead of you just copying what Iím doing. This way youíll be able to attribute these qualities to your own art. This is a big secret Iíve learned over the years. Iíll also show you how to keep painting simple and enjoyable from start to finish, so you wonít have to worry about staying motivated the whole time.
Easy to understand concepts you probably have not heard before
Iíve created this course in such a way where everyone should be able to use the concepts and understand them easily, plus most youíve probably never heard before. I want you to get the information fresh and undiluted. I want you to have those rewarding ďah hah.Ē moments that we as artists find so motivating and rewarding. Even if you paint with no intention to sell, I want you to be able to break through frustrations and be able to say to yourself "wow I really did it, I'm an artist".
Learn WHY
I also believe that in learning how to paint, and learning how to transfer what youíve learned to your personal art requires someone who explains why. I explain why I do each step that I do and why its important for painting. This is important so that you can later paint on your own without guidance.
Click here to see my Landscape Painting DVDs
Why still life one of the best way to learn to paint?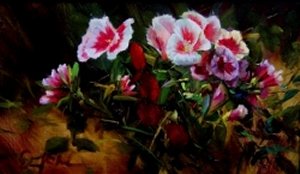 I believe that still life painting is a great place to start. It provides an opportunity for richness and a depth of color that isnít often found in landscape or portrait painting. Since still lifes are typically quite small (about 2 feet deep) and have a lot of information conveyed, I think they teach best how to learn advancing and receding planes, which is what makes your painting look believable and dimensional. Learning how to paint advancing and receding planes in still life will be a huge benefit later when you want to paint a landscape and people.
Prefer Landscapes? Click Here for my Landscape 10 DVD 10 Painting course: Landscape oil painting DVDs
How we do the class:
Once you grab the course, Iíll send you an email of the photos of the still life set ups, as well as close ups of the important features of the still lifes. These photos will be ready to print from your printer or you can print them at a local photo or drug store. You can also work from your computer monitor if youíd like (that is what I usually do), You can begin your first painting now today.
Dan- Your painting tip on shadow color has helped me immensely, resulting in unity and cohesiveness in my paintings. John C. Ulberg Helena, Montana
Dan is a natural teacher! Excellent step by step instruction, packed with valuable information, I've learned so much. And it's in the comforts of home, I don't have to waste time and money traveling. Pat Chocorua, NH
Even though I paint with watercolor and pastels, I find Dan's tips interesting and applicable especially when he talks about color. Ellen Cold Spring, New York
Dear Dan, I learned so much from both your still life and landscape DVD's - and especially appreciated the feedback on my paintings each week. The lessons are clear and you take the time to explain the painting process in great detail. I could see an improvement in my work almost right away. Great lessons! Janet Bonneau Fairfax, V
Dear Dan, The Still Life series has made a tremendous difference in my paintings. The Yellow Gerbera Daisy is the sixth painting and the one I am now working on. Because of your help I have gotten more involved in the art community here where I live and on the internet. I have donated two of my paintings. That made me feel good to help others. The information in video helps me by letting me work at my own speed. I can play them over and over, stop and play as I need. That makes for a very relaxing experience. You add extras that are of great help. I've enjoyed working on my art as ofter as I want at anytime day or night. You a wonderful artist and gifted teacher. " I am looking forward to taking your other classes. Thank you, Sandra Dixon Sandra Dixon Fort Smith, Arkansas
Dear Dan, I have only one painting to go in your Still Life DVD Course. I have loved every minute of it! The photos, tips, and DVD's are of such high quality that I have never been sorry that I spent the money to order this course. It is definitely a better value than that offered by a nearby major Art School. Your video demos are exceptional! I am also thrilled that you have offered your students the rights to sell the paintings from this class. Very generous of you! Thanks! I have ordered the Landscape course and plan to begin once I complete the Still Life class. I would recommend your courses to anyone wishing to learn or improve oil painting skills. Again, Thank you! Mary Van Deman Sun Lakes, AZ, USA
Dear Dan, Before learning oil painting from you, I had been learning Chinese color painting for more than eight years. I think you are the best initial teacher in my oil painting career. Your videos on still life, landscape and figure painting are wonderful. In the videos course, you teach me how to use brush stroke, and address the margin before finishing the paintings, as well as give me some good tips and nice ideas. I had finished all the courses including still life, landscape and figure painting from you. I had hold a solo paintings exhibition on April ,2013 in Taiwan. I put some parts of my works in the following website http://liaw.rum
otan.com/
to share the peoples who are interested in paintings. Actually I had sold some of my works since this exhibition . I learned much from you, I think you are my teacher forever. Chinese proverbs said ďIf you are my teacher for even one day, you will be my teacher all my life. Sincerely yours, Kwo-Jen George Liaw Taipei, Taiwan Kwo-Jen George Liaw Taipei, Taiwan
Dear Dan, I am a beginner, now on lesson 4 of the course on still life,"Pansies in boat vase". I am painting things I never would have attempted, and I feel more confident than I could have imagined 4 weeks ago. I have benefitted from your lessons and tips, and especially critiques of my paintings. Your love of painting is inspiring to me. This course is really a Best Buy on my list. Mary Ann Philadelphia
Dear Dan I have been watching your instructional videos on line, and have been learning so many new things. Tips to make paintings interesting to the eye and, little things that create movement have interested me the most. I have really enjoyed when you critique a painting, there are so many things easy to over look, but you find a new lesson to teach us. These videos have awakened my brain to see better. thank you so much. Mary Wyoming MN
Dan's Still Life DVD course is sensational! He generously shares his knowledge and expertise on a myriad of subjects: lighting, color mixing, setups, materials, composition, brushwork, finishing details...it's all in the DVDs. His casual style makes him easy to watch and his upbeat personality keeps one going even on those inevitable "down days" that we all experience. Thanks you, Dan...I have learned so much. Kris Stewart Eugene, Oregon
Dan.. thanks for your painting tips I have only been painting for a few years and find them very help full and I see things in a new way John Dee UK London
Dan, you are so generous to offer us your FREE painting tips. They are to the point and so helpful to me as a developing beginner artist. Please keep them coming. I hope to take one of your courses soon. The tips are a great "appetizer"! Patricia B. Seattle, WA
Dan, You are the best instructor that I have experienced - by far. My painting took a huge jump with your still-life class. I had my first acceptance to a juried national exhibition after I completed the class - wow! - thank you so much. Dave Tennessee
Dan, Your week tips are great! I have used them in my work and find great improvement from just a small touch. Thanks and keep up the good work. Marjorie
Want more Reviews? Click here for Hundreds more
Instruction and concepts on:
Brushstrokes, Styles of painting, color mixing made easy, Composition, setting up your art space/Studio, Alla prima wet into wet techniques, Layering techniques, Toning and priming canvas or boards, How to know when a painting is finished, how to price your work, making things turn and look dimensional how to pick subjects to paint, how to get over blank canvas paralysis and start painting, what colors and tools to use, mediums and thinners, how to use acrylics, palettes, other materials, canvas and panels when to use which, clean up after painting, different types of brushes and what they do, photographing your art, scumbling, thick paint (impasto) vs. thin, how to loosen up, your process and rituals, light and shadow painting, loose painting and impressionism, painting texture, highlights and accents, ellipses, eye path and movement, color charts, hue and saturation of color, how to work from photos, finishing and varnishing, perspective when is it important and when can it be ignored, focal points and center of interest and tension, starting methods, massing, line drawing with paint, how to make things look brighter or more colorful, cleaner richer, Much more...
Still have questions? e-mail Dan at