Learn to Paint Better & stop Amateurish Paintings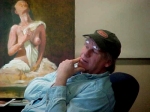 Hi, Iím Daniel Edmondson

I studied art in college and took tons of classes and workshops over the years but I kept getting frustrated and was feeling like I wasn't getting it and getting better as quickly as I wanted to. So I ended up developing a system on my own that really helped me learn to paint and get better with painting and get into galleries and win shows. I took this information in this system and created a teaching course that has been really valuable to thousands of people.
These are some of the many problems I had:

--> I was Seeing other people get better but feeling like I wasn't getting it
--> Not mixing the colors I needed
--> The teachers kept talking but I never felt like they were really explaining it...it was just "Do this... Do that..."
--> The teachers were correcting my drawing problems but not really teaching me how to paint
--> not knowing when to stop and overworking and ruining a good painting

I finally figured out a good workable system and this is how I did it:
Get "Free Painting Tips" weekly and

"7 mistakes handout"

you can Just unsubscribe anytime if you don't like the tips
10 DVDs 10 Paintings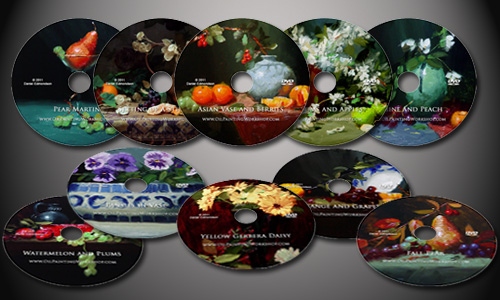 Each DVD will take you from the start to finish of ten paintings that you can do at home. You can even begin your first painting today because each set of DVDs comes with an online version of the same content, so if you want to travel and paint but donít want to cart around DVDs then you can look at everything online.
Donít worry Iím not going to bore you with lectures on theory or history or anything, I explain how and WHY to paint each painting as you paint the paintings along with me.
As a rare bonus, send me your painting and Iíll critique it and give you personalized tips. This is completely optional.
Imortant: Do not change your style: This course is to help you develop your own unique recognizable style not Force my style onto you
want to see more? Watch a short preview lesson NOW:
actual online version and DVD version larger and higher quality
note: Every DVD Demo is brushstroke by brushstroke, Start to Finish, nothing left out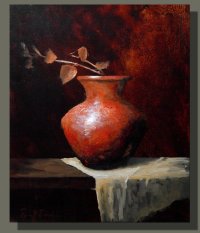 Learn to Create Backgrounds
Iíll teach you how to paint one of the most elusive painting elements, the background and Iíll teach you how to paint a variety from smooth and quiet to varied and abstract. Weíll go over the differences and how to use backgrounds to create the most compelling painting for yourself. This is one of those big problems that more artist don't realize in their work.
Learn How to Translate
Iíll teach you how to translate what you see me doing and what youíre doing instead of you just copying what Iím doing. This way youíll be able to attribute these qualities to your own art. This is a big secret Iíve learned over the years. Iíll also show you how to keep painting simple and enjoyable from start to finish, so you wonít have to worry about staying motivated the whole time.
Easy to understand concepts you probably have not heard before
Iíve created this course in such a way where everyone should be able to use the concepts and understand them easily, plus most youíve probably never heard before. I want you to get the information fresh and undiluted. I want you to have those rewarding ďah hah.Ē moments that we as artists find so motivating and rewarding. Even if you paint with no intention to sell, I want you to be able to break through frustrations and be able to say to yourself "wow I really did it, I'm an artist".
Learn WHY
I also believe that in learning how to paint, and learning how to transfer what youíve learned to your personal art requires someone who explains why. I explain why I do each step that I do and why its important for painting. This is important so that you can later paint on your own without guidance.
Click here to see my Landscape Painting DVDs
Why still life one of the best way to learn to paint?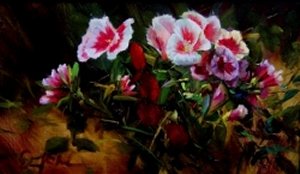 I believe that still life painting is a great place to start. It provides an opportunity for richness and a depth of color that isnít often found in landscape or portrait painting. Since still lifes are typically quite small (about 2 feet deep) and have a lot of information conveyed, I think they teach best how to learn advancing and receding planes, which is what makes your painting look believable and dimensional. Learning how to paint advancing and receding planes in still life will be a huge benefit later when you want to paint a landscape and people.
Prefer Landscapes? Click Here for my Landscape 10 DVD 10 Painting course: Landscape oil painting DVDs
How we do the class:
Once you grab the course, Iíll send you an email of the photos of the still life set ups, as well as close ups of the important features of the still lifes. These photos will be ready to print from your printer or you can print them at a local photo or drug store. You can also work from your computer monitor if youíd like (that is what I usually do), You can begin your first painting now today.